by Brad Zigler
Real-time Monetary Inflation (last 12 months): -2.1%
This week, gold turned in another mixed performance against the world's reserve currencies. In addition to its appreciation against the U.S. dollar, bullion gained 0.3 percent against the yen and 0.6 percent vs. sterling. Gold gave up 0.5 percent to the euro and 0.9 percent to the Swiss franc.
For the week ending Thursday, here's how gold and other U.S. dollar indicators fared:
London morning gold fixings averaged $1,240 and finished 0.6 percent higher at $1,248; Thursday's COMEX spot settlement of $1,252 capped the week 1.3 percent higher after averaging $1,244; average daily volume fell 8.4 percent to 92,116 contracts; open interest rose by 13,336 contracts to 579,164 as gold found bidders and relied less on currency weakness to bolster prices; COMEX inventories fell by another 1.9 tonnes (60,228 ounces) this week, leaving 10.821 million ounces to cover 18.7 percent of open interest.
London gold lease rates eased further, falling 2 basis points (0.02 percent) for three-month contracts and 4 bps for a year's commitment.
SPDR Gold Shares Trust (NYSE Arca: GLD) assets teetered this week, rising first then falling by a net 3.0 tonnes (97,738 ounces) to 1,294.9 tonnes.
Junior mining stocks took the lead this week; the value of the Market Vectors Junior Gold Miners ETF (NYSE Arca: GDXJ) was pushed 4.4 percent higher, while producers comprising the Market Vectors Gold Miners ETF (NYSE Arca: GDX) edged up 1.6 percent; the GDX/GDXJ multiple fell to 1.70x, reflecting investors' increased appetite for risk; with a 4.1 percent gain for the S&P 500 Composite Index, the blue-chip benchmark's correlation to senior mining stocks slumped 26 points to 18 percent; bullion's correlation to the S&P 500 dropped to -9 percent on 5 percentage point dip.
WTI crude oil prices rose 2.3 percent to $77.02 a barrel, taking the gold/oil multiple to 16.7x.
Bank lending tightened as a 3 bps easing in three-month Treasury bill yields was matched with only a 1 bp downtick in Libor; as a result, the TED spread—reflecting counterparty risk—was hiked up to 0.17 percent.
The COMEX gold futures curve pointed to cheaper money as embedded finance rates slipped under one-year Treasurys by 31 bps; for the week, the one-year gold contango ticked up 10 cents an ounce.
Long bond yields climbed 19 bps to 3.53 percent, steepening the Treasury yield curve to 360 bps.
The euro gained 1.0 percent against the U.S. dollar to finish at $1.2781; cross rates averaged $1.2729 this week.
Monetary inflation (click to enlarge) was fairly stable this week with the average year-over-year rate at -2.3 percent; at today's rate, the real return on three-month Treasury bills retreats to 2.27 percent.
Monetary Inflation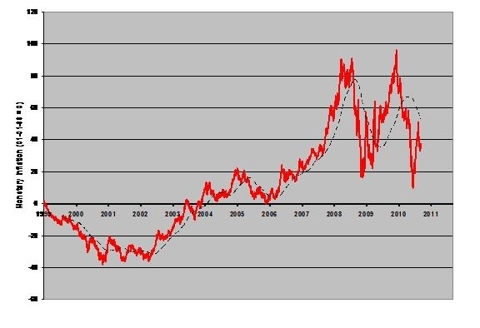 The original article is published at http://www.c2ads.net/full-text-rss/makefulltextfeed.php?url=http://seekingalpha.com/sector/gold-precious.xml&format=rss&submit=Create+Feed
Related posts: