By Chris McKhann
Put trading continues today as gold has risen to yet another new high.
The SPDR Gold Shares (GLD) exchange-traded fund is at $127.94 this afternoon, up 0.07 percent and just under its $128.24 peak earlier in the session.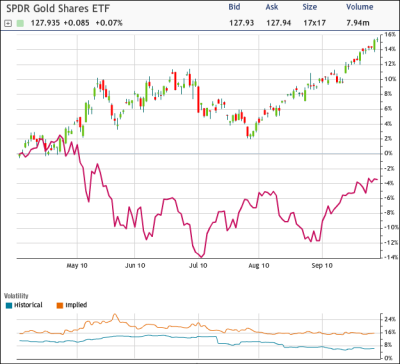 The shares have barely taken a break on their way up since finding support at $113.50. The correlation between the GLD and the S&P 500 (purple line on chart) also continues to rise, now up to 0.85.
A trader bought 10,150 of the January 119 puts for $2.14. The previous open interest was 1,156 contracts, so this was a new opening position.
Roughly 15 seconds before the options were bought, a block of 222,000 shares of the GLD were bought in one transaction. While this may be coincidence, it seems unlikely. (I have often said that I rarely believe in coincidence in the investment world).
If these two are traded together, it is a roughly delta-neutral strategy that bets on higher volatility. The delta — which denotes the sensitivity to changes in the price of the stock — of the total option position is about -240,000. The combined position could profit if shares move sharply lower or higher.
The volatility has fallen as the shares have risen. The 30-day historical volatility is 9 percent, just above the 52-week lows set a month ago. The average implied volatility is 17 percent, also just above the 52-week lows.
Disclosure: No position
The original article is published at http://www.c2ads.net/full-text-rss/makefulltextfeed.php?url=http://seekingalpha.com/sector/gold-precious.xml&format=rss&submit=Create+Feed
Related posts: