Gold might be the investor's metal of choice, but don't count out silver or the silver miner ETF. Both are dusting gold ETFs.
One of the primary reasons silver is better positioned than gold is because of its dual uses: it's a safe-haven investment, but it's also popular in industry.
Stocker Blog on Fav Stocks reports that silver is used in everything from circuit boards to coinage to dentistry to cloud seeding to medicine. For that reason, when gold prices are rising, silver prices are rising faster. Case in point: silver prices have shot up 8% in the last three months, while gold prices are up 1.4% in the same time frame.
Approximately 600 million ounces of silver are mined every year, but the demand for silver is around 900 million ounces per year.

The Stock Advisors on iStock Analyst reports that Silver Wheaton (SLW) is a stock to watch. Silver Wheaton pays a set price for silver, which it buys from various mines that produce silver as a byproduct, and want to offset the costs of the other metals they mine. Silver Wheaton's growth comes from rising silver prices and more agreements with more mines.

Global X Silver Miners (SIL): UP 13.3% in the last three months; silver Wheaton is 14.6% of SIL and its top holding
click to enlarge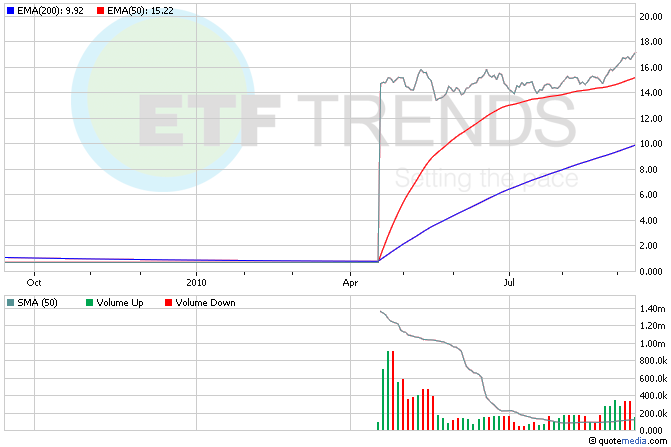 Tisha Guerrero contributed to this article.
Disclosure: None
The original article is published at http://www.c2ads.net/full-text-rss/makefulltextfeed.php?url=http://seekingalpha.com/sector/gold-precious.xml&format=rss&submit=Create+Feed
Related posts: