By Brad Zigler
Real-time Monetary Inflation (last 12 months): -1.3%
Gold continued to rally against Continental currencies this week but lost 0.3% against the Japanese yen. Bullion rose 2.0% in euros, 1.7% in sterling and 1.3% in Swiss francs.
U.S. dollar-denominated indicators for the week ending Thursday included:
London morning gold fixes inched 0.4% higher to $1,200 after averaging $1,199; COMEX spot settlements averaged $1,203 and finished at $1,215; average daily volume for COMEX gold fell 15.1% to 106,988 contracts on light buying as open interest climbed by 5,877 contracts to 525,653; COMEX gold inventories were pared by 1.76 tonnes (56,559 ounces) to 11.119 million ounces; warehouse stocks now cover 21.4% of gold open interest.
Three-month London gold lease rates fell 2 basis points (0.02%).
A 4 tonne addition to the bullion holdings of the SPDR Gold Shares Trust (GLD) which raised the trust's metal assets to 1,286.7 tonnes.
The stocks of gold producers comprising the Market Vectors Gold Miners ETF (GDX) appreciated 1.3%, outperforming the issues in the Market Vectors Junior Gold Miners ETF (GDXJ), which gained 0.4%; the 3.8% slump in the S&P 500 Composite lowered its correlation to the GDX stocks to 43% while shaving down its correlation to bullion to 21%.
NYMEX WTI crude oil prices slid 7.6 percent to $75.74 per barrel; the gold/oil multiple shot up from 14.6x to 16.0x.
An uptick in the three-month Treasury bill yield, counteracted by an easing in Libor, kept the TED spread flat at 37 basis points.
Money rates embedded in the COMEX gold futures term structure continued on a deflationary trajectory, widening the discount to one-year Treasurys to 36 basis points.
Long bond yields fell 11 basis points to 3.94%; the 3-month to 30-year yield curve flattened to 377 points.
A reversal in the euro's trend against the U.S. dollar as cross rates averaged $1.3169 and finished at $1.2982 for a 1.1% loss.
Further erosion in monetary disinflation as the average one-year rate rose to -1.1% from -1.7% . Today's rate, the real return on three-month Treasury bills is 151 basis points.
(Click to enlarge)
Real (Monetary Inflation-Adjusted) T-Bill Yields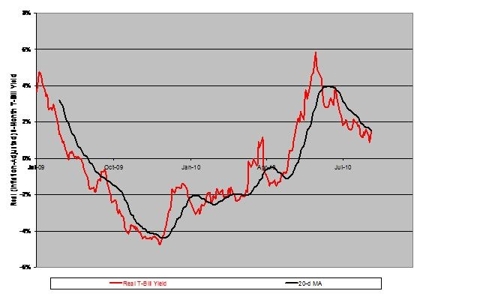 Disclosure: None
The original article is published at http://www.c2ads.net/full-text-rss/makefulltextfeed.php?url=http://seekingalpha.com/sector/gold-precious.xml&format=rss&submit=Create+Feed
Related posts: